The Pet Insurance People. Call us on
Administration:

0121 308 8685
Claims:

03301 348112
(option 2)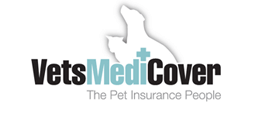 Quote here
Contract summary
In the event of an emergency:
Your vet can operate immediately.
Policy conditions: your pet requires
Vaccinations and boosters kept up to date, as recommended by your vet.
Vaccinations against kennel cough prior to admission to a boarding kennel or show.
Claims conditions:
Please call the claims line 03301 348112 within 3 months from the injury or illness.
Principal Exclusions:
Illness within 14 days of policy inception and Injury within 5 days of policy inception.
Pre-existing conditions until treatment and symptom free for 24 months (cover applies to Lifetime policies only)
Pets less than 8 weeks or over 8 years* at policy inception. *Certain breeds are restricted to 5 years old at inception
Dogs used for working, guarding, racing or registered under the Dangerous Dogs Act 1997.
Please note:
For full policy terms and conditions, please refer to the policy document.
Quote here
Customer Reviews
Very happy with VetsMediCover service.

I have used this service a few times for claims and found the staff very helpful and friendly whilst freely giving guidance regarding claims procedure. I was also kept informed about the progress of the claims and notified immediately of any problem such as the vet not filling in their part of the form correctly. I have every confidence with VetsMediCover looking after my pet insurance and dealing fairly with me.
Wonderful staff members

Very helpful staff with lots of useful information and advice
Efficient service and quick response

Quick response and I have been kept fully informed of developments as they occur.